was a site-specific installation and performance, set on a vacant lot beside the Maribyrnong River and performed as part the 2003 Big West Festival. It posed a simple question: What if the Melbourne public woke up one morning to find a refugee camp on their doorstep?
The chosen site was within view of the CBD, situated between a main trainline and arterial road, in full view of the passing public.
Twice a day an audience arrived at the site on the assumption they would be viewing a new 'off the plan' real estate development. Actors playing real estate agents welcomed them and encouraged them to roam the site, pegged out in numbered lots. The audience soon discovered a hidden population living there in makeshift shelters. To view their
real estate opportunities
, the audience had to turn a blind eye to the smoking fires, the sick and filthy people, the burnt out car wrecks and the vast burial ground.
From the graves in the burial ground the audience hear the voices of the dead (hidden speakers in the mounds). People gather water from the muddy lake and cook food by open fires. The peak hour trains rattle past, the passengers watching from the windows.
At the end of the 'inspection' the audience is invited back to a white marquee where they can sign up for their dream home...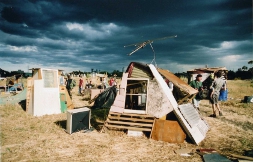 TRANSIT CAMP
Big West Festival 2003
Director:
Susie Dee
Text & Dramaturgy:
Wayne Macauley
Designer:
Ian Bracegirdle
Composer/Sound Designer

:
Michael Havir

Photos: Ponch Hawkes
Home...
---