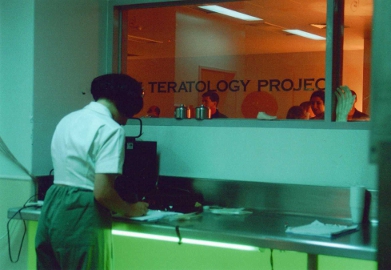 T

he Teratology Project

was created by ICE (the Institute of Complex Entertainment) and performed at the disused PANCH Hospital in the northern suburbs of Melbourne in 2002. As well as a core cast of professional actors, other roles in the piece were played by members of Platform Youth Theatre.

Teratology

[n.]: the study of abnormalities, a tale of marvels.

As night falls the audience arrive at an eerily deserted hospital and are escorted upstairs to an intact surgical ward. There they are asked to provide a 'genetic sample' and are introduced to the ward by the Doctor in charge. They are then split into four different groups, and escorted by their Nurses to four different spaces to watch four different, but interlinked works.




The show explored, in a highly theatrical way, the ancient nexus of 'normality' and 'abnormality'. With the rapid advancement of medical science we can now 'create a monster', similiarly we can breed out or surgically remove all 'monstrosities'. But is this the world we wanted? With scientific advancement fast out-running any ethical framework, most of us have not even had the chance to ask. Is there still a place in our society for the freakish, the weird, the difficult, the unhealthy or are the unintended consequences of the new sciences to eliminate all difference and/or diversion?



The Teratology Project was a freakshow for the twenty-first century.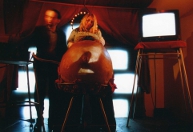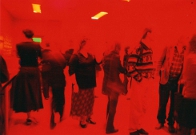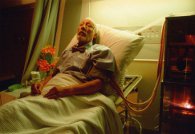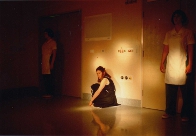 1. Virgin Mother and Unborn Messiah: Brian Lipson & Sally Hildyard 2. The Red Room 3. Death and the Very Old Man: Bruce Kerr 4. Fours Sisters: Maria Theodorakis
Nominated for two 2002 Victorian Green Room Awards

'a site-specific performance that works brilliantly' - The Age

'an exceptional theatrical experience' - Inpress Magazine

'a fascinating work of interactive theatre unafraid to ask the big questions' - Beat Magazine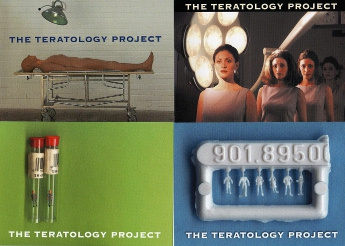 Director
: Susie Dee
Writer
: Wayne Macauley
Designer
: David Murphy
Composer
: Michael Havir
Video
: Chris Harris
Lighting
: Nathan Thompson
Costume
: Anna Tregloan
With
: Angus Cerini, Etienne Grebot, Sally Hildyard, David Joseph,
Bruce Kerr, Brian Lipson, Maria Theodorakis
and members of Platform Youth Theatre
Photos: Ponch Hawkes Postcard Images and Design: Chris Harris & David Murphy